#include <LibwebvttParserAdapter.h>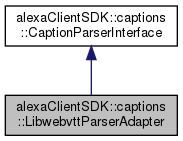 [legend]
[legend]
A singleton implementation of the CaptionParserInterface, specified to work with the libwebvtt parsing library found at: https://github.com/alexa/webvtt
◆ addListener()
◆ getInstance()
◆ parse()
◆ releaseResourcesFor()
Notify the parser that resources related to this caption ID are no longer needed and can be safely released. This function might be a no-op, depending on the caption parser implementation, but is provided in case static resources are maintained between parse requests, such as if callback functions are used to communicate with the parser.
Parameters

| | |
| --- | --- |
| captionId | the ID corresponding with the resources that should be freed, should a value that was previously received with the parse() function. |
Implements alexaClientSDK::captions::CaptionParserInterface.
---
The documentation for this class was generated from the following files:
AlexaClientSDK 1.25.0 - Copyright 2016-2021 Amazon.com, Inc. or its affiliates. All Rights Reserved. Licensed under the Apache License, Version 2.0