#include <TimeZoneHandler.h>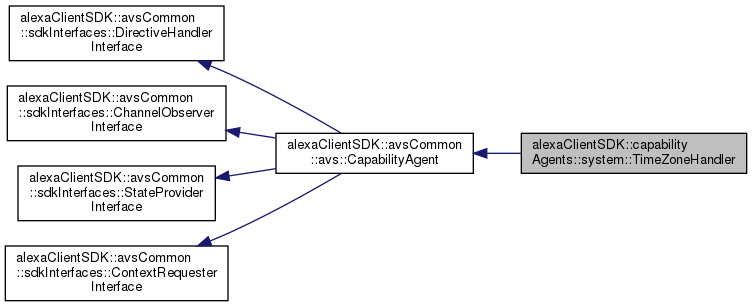 [legend]
[legend]
◆ cancelDirective()
◆ create()
Create an instance of TimeZoneHandler.
Parameters

| | |
| --- | --- |
| timeZoneSetting | The timezone setting set by this handler. |
| exceptionEncounteredSender | The interface that sends exceptions. |
Returns

nullptr if the inputs are not defined, else a new instance of TimeZoneHandler.
◆ getConfiguration()
Returns the configuration of the directive handler.
The configuration consists of multiple directive routing rules and their respective blocking policy. The directives will be matched from the most specific rule (with all fields defined) to the least specific rule (which only matches the directive endpointId).
Returns

The avs::DirectiveHandlerConfiguration of the handler.
Implements alexaClientSDK::avsCommon::sdkInterfaces::DirectiveHandlerInterface.
◆ getTimeZoneMetadata()
Gets the timezone events metadata.
Returns

The timezone event metadata.
◆ handleDirective()
◆ handleDirectiveImmediately()
| | | | | | |
| --- | --- | --- | --- | --- | --- |
| void alexaClientSDK::capabilityAgents::system::TimeZoneHandler::handleDirectiveImmediately | ( | std::shared_ptr< avsCommon::avs::AVSDirective >  | directive | ) | |

override
◆ preHandleDirective()
---
The documentation for this class was generated from the following files:
AlexaClientSDK 1.26.0 - Copyright 2016-2021 Amazon.com, Inc. or its affiliates. All Rights Reserved. Licensed under the Apache License, Version 2.0