#include <MockSpeakerInterface.h>
[legend]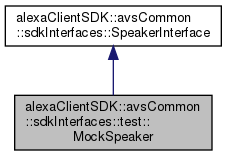 [legend]
◆ MockSpeaker()
| | | | | |
| --- | --- | --- | --- | --- |
| alexaClientSDK::avsCommon::sdkInterfaces::test::MockSpeaker::MockSpeaker | ( | | ) | |

inline
◆ getSpeakerSettings()
◆ setMute()
| | | | | | |
| --- | --- | --- | --- | --- | --- |
| bool alexaClientSDK::avsCommon::sdkInterfaces::test::MockSpeaker::setMute | ( | bool  | mute | ) | |

inline

override

virtual
◆ setVolume()
| | | | | | |
| --- | --- | --- | --- | --- | --- |
| bool alexaClientSDK::avsCommon::sdkInterfaces::test::MockSpeaker::setVolume | ( | int8_t  | volume | ) | |

inline

override

virtual
Set the absolute volume of the speaker. volume will be [AVS_SET_VOLUME_MIN, AVS_SET_VOLUME_MAX], and implementers of the interface must normalize the volume to fit the needs of their drivers.
Parameters

| | |
| --- | --- |
| volume | A volume to set the speaker to. |
Returns

Whether the operation was successful.
Implements alexaClientSDK::avsCommon::sdkInterfaces::SpeakerInterface.
---
The documentation for this class was generated from the following file:
AlexaClientSDK 1.26.0 - Copyright 2016-2022 Amazon.com, Inc. or its affiliates. All Rights Reserved. Licensed under the Apache License, Version 2.0